Knitting Division
To produce knitted fabric of supreme quality, we used finest quality yarn & give best quality product to our valued clients. We have in house 170 machines of latest technology. We have dedicated a complete unit of computerized knittng machines for fleece , S/J, RI B, P.Q fabrics with additional capability to produce lycra fabric as well. A variety of fabric such as plain, cross, sueded, texturedfleece can be produced at our versatille facility. We have "Vanguard supreme" Machines to knit body size fleece fabric and "Mayer & Cie" machines for open width fleece fabric. The vast variety of available Dia Gauges has enabled us to produce all the widths thus reducing our costs in cutting.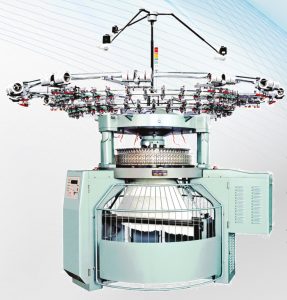 Processing Plant
Dyeing section is well-equipped with the state of Art Technology with low Liquor Ratio high Temperature Jet Machines capable of producing 40 tons of Dyeing per day of varieties of knitted fabrics like cotton, Blends and all kind of synthetics including polyester.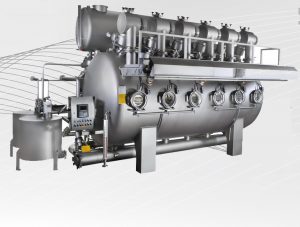 Finishing
Finishing section equipped with state of art of European machines includes slitting with squeezing facility, Tensionless Dryer's , Stenter's and Compactor's enables AZ Apparel to achieve low shrinkage fabrics also with latest performance features like Oil and Water Repellent, Anti-Bacterial, Flame Retardant , Moisture management etc, State of the art Sueding /Peaching machine make AZ Apparel capable of producing delicate knitted fabrics. Singeing Machine also added which helps to clear the surface of fabric.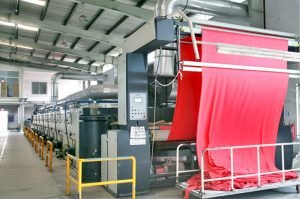 Effluent Treatment Plant
A.Z. Apparel has installed biological treatment plant with capacity of 70 Cubic meters per hour. We are able to recycle 50% of waste water through TERTIARY TREATMENT which includes Ultra filtration, Disk filtration, multimedia filtration and Reverse Osmosis system. Thus, we are keeping ourselves in line with our social responsibilies by manufacturing sustainable, organic and Green to Wear products.

Cutting
Cutting units working under the supervision of skilled unit managers, these cutting units are well equipped with latest machinery including Orox Plotter, Auto Spreader, Auto cutter, Spreader, etc.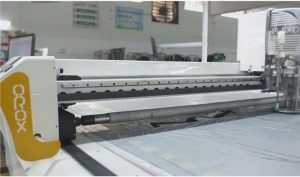 Printing Division
We have Oval machine with 16 head & 12 colors at a time, having 30,000 Pieces per Day capacity.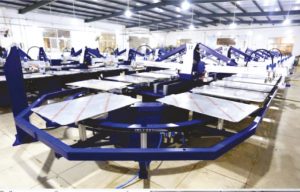 Embroidery Facility
We have 3 latest model Embroidery machines of 20 heads, per day capacity of 8000 pcs which completely fulfill our desire need.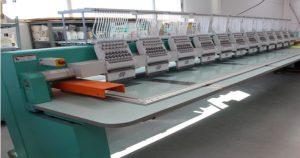 Stitching
With over 4000 stitching machines, manned with the most skilled and expert operators. The Quality control and Quality Assurance departments are in place to make sure the company's objective of zero defects. Computerized Bar coding and Back Track systems provide AZ APPAREL 100% predictability and tracking performance.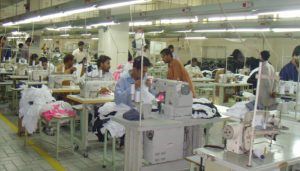 Hanger System
We have 6 hanger systems which are more efficient in productivity.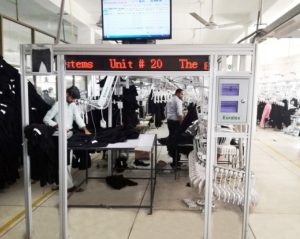 Denim Division
Under the vision of "CEO" we are going to have state of the art laundry which will provide AZ Denim division sustainable competitive advantage.

Sustainability In Laundry
* E Flow K LAB Softening Machine.
* MAMBO 60 Washing Machines.
* E FLOW K T Softening Machine.
* DB 420 – Washing Machine.
* G2e – Garment Ozone Machine system.
* Garment Laser Machine System COMPACT.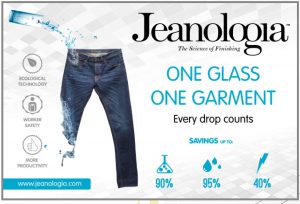 Sewing Area Equipped With
In sewing VBMs (VI.BE.MAC) + ROBOTECH full automation blended with semiautomatic machines of BROTHER, KANSAI & PEGASUS. Capacity 10,000 UNITS OF MULTIFASHION style's in A DAY '6 Lines'.